We have managed to cram an insane amount of Halloween goodness into the last four days, which leaves me endless photos to edit and upload, pumpkin innards to dispose of, more candy and popcorn than we know what to do with and two very tired and cranky little girls.
For now, how about a photo of Olivia the Pig and the cutest Chicken Little you have ever seen?
There... that's better.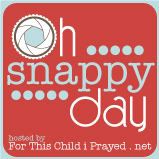 I'm linking up to Kelli's "Oh Snappy Day" at For This Child I Prayed. I've only recently found her blog and it's pretty stinking adorable. Be sure to click the button above to stop by and say hello!